---
Mastering the art of looking in a visual culture so rapidly in transition has become somewhat of a sacred task, one that Dutch artist Misha de Ridder has spent his career pursuing. Drawn to the landscape at an early stage in his career, de Ridder moved from photographing the signs and signifiers of the cityscape to exploring his own relationship to nature's enigmatic depths. "I had the feeling that in the cityscape, everything is made – architecture, signs, all manmade. The meaning that arises from these objects is more or less set. So, as a photographer, you combine all these meanings and a new meaning arises. But I really wanted to work from something that had no meaning. Something before meaning."


Using a large-format field camera, he began to travel through the backdrop of the mediated landscape on the search for the unknown. From innovative and experimental photobooks to meditative video works and vast prints, de Ridder's work process is characterised by a gravity that demands we look again at what we thought we knew. Instilled with a sensitivity and respect for the monumentality of the natural world, the high detail and precision of his work invites the viewer to look anew at the world around them, and past the clichés that have come to dictate our perception of nature. "This overrepresentation of nature in media is putting up a wall in-between us and a real experience of place. I want to connect in my own way; I don't want to do it through someone else's eyes. More and more people live in cities. You see a mediated image, or a park, then maybe you're on holiday; you're in a car, you see all these mountains but you just drive passed them. You're still not looking. Even your cultural baggage keeps you from looking. Everything is already thought of."

On the pursuit of a deep-rooted experience that embraces the spiritual dimensions of our environment, de Ridder's ventures into the natural world do not shy away from the extreme nor does he attempt to conquer it. It is not with the grandeur of the romantic individual that he approaches his subject, but with a reverence for its insurmountable power. "It's about being at this edge, this boundary between something that is fantastic and terrifying. I'm most interested in this feeling and the place of man in the landscape." His intricate studies are thus devoid of the sentimental tropes of romanticism, filled instead with a sense of wonder at nature's enigmatic phenomena. Driven by mystery, they seek to achieve the impossible: to represent what essentially cannot be represented.

The "machine eye" of the large-format camera shares an equal role to the human eye in this process. Interested in the autonomous activity of analogue film, de Ridder uses the camera to penetrate a reality that we are not witness to. "I work with analogue film as a medium itself. I know film will pick up certain colours in a different way. You see different colours with the human eye, which tends to correct things." His most recent series Falaise, which consists of abstractions of the chalky cliff face in Ault in Normandy, France, harnesses the revelatory power of photography to capture the continuous metamorphosis of the cliffs. Once a celebrated holiday destination, where Monet is believed to have developed Impressionism, the area has become forgotten as it is encroached upon by the sea, which is gradually swallowing its surroundings.

Shooting with his back to the sea, de Ridder turned his attention to the minutiae of the cliff face. To the human eye, the surface is white. To the "machine eye", the surface is in motion, capable of kaleidoscopic transformations. The film has a life of its own, capturing a spectrum of different colours and seasonal textures, induced by the orange of sunset, the rich blue of dawn and the yellow moss of spring. With light coming from the sky as well as light reflected by the sea, the cliffs become a canvas, subject to renewal as blocks of chalk break away into the water to reveal layers of fresh white. Falaise is an ode to its lifespan, celebrating the mystique of 160 million years of sediment.


---
---
DE WILDERNIS VAN ALMERE
door Maria Barnas voor Museumtijdschrift nr 8 nov./dec. 2014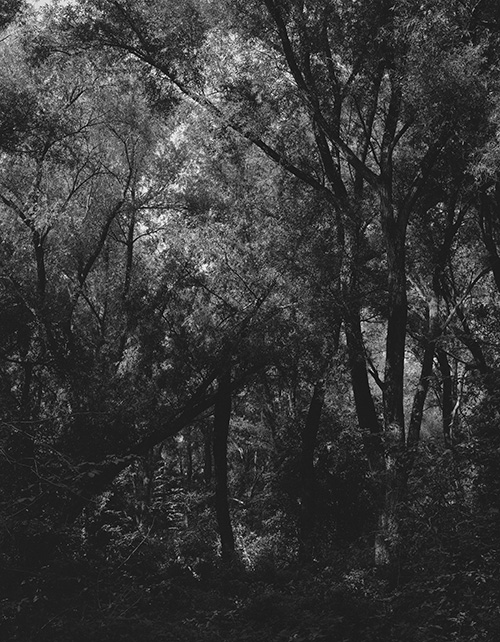 Met zijn werk zet kunstenaar Misha de Ridder (NL, 1971) niet zozeer landschappen neer als wel manieren waarop je naar het landschap kunt kijken. In zijn atelier aan de Krom Boomsloot, in de binnenstad van Amsterdam, laat hij me een foto zien van een dichte begroeiing, Set IV / Analoge baryte print / 20 x 25 cm / 2014. De foto is zo scherp, dat mijn oog niet weet waar het zich op moet richten. Het dwaalt als een nerveuze vogel van blad naar blad naar tak.
De Ridder heeft goede redenen om niet met een digitale camera te werken. 'Dit is echt een etsje van de natuur. Alles staat erop, ook de details die fijner zijn dan je kunt waarnemen. En omdat dit een handprint is, zijn er grijstinten haalbaar met een eindeloze schakering. Dat kun je met een inkjet print vergeten.' Ik heb de indruk dat ik in het beeld val, in een diepte die eindeloos is - terwijl ik weet dat deze bomen staan afgebeeld op papier. Er is een val in de diepte, maar ook in bossen die ik eerder heb gezien. Ik moet denken aan de ingehouden wildernis van schilderijen van Courbet (1819-1877) met bomen die afzonderlijk niet spectaculair zijn, maar samen een oppervlakte vormen waar je als toeschouwer in wilt binnendringen. Waar Courbet een lichtvlek, een paadje, een vogel biedt om je verbeelding langs te leiden, weigert De Ridder je een richting of handvat te geven. Hij zoekt juist de afwezigheid van het anekdotische, om de onverschilligheid van de natuur te benadrukken.
Het Wilgenbos in Almere-Buiten, aan de rand van het Markermeer, ontstond begin jaren zeventig nadat de Flevopolder hier in 1968 werd drooggelegd. Om de dijken te versterken, werden matten gebruikt, geweven van wilgentakken. 'Deze takken zijn soepel en ijzersterk', vertelt De Ridder, 'maar het is levend materiaal. Als je zo'n tak in een glas water zet, schiet het meteen wortel. Het verbreidt zich net zo enthousiast als een virus.'
'In Nederland wil men bossen met lanen en eiken en beuken en de ondergrond moet kaal zijn, zonder brandnetels voor de kinderen... Maar dit is echt! Het is zonder plan, dicht begroeid geraakt. Het is vijandig. Ik denk niet dat je in Nederland dichterbij oer-wildernis kunt komen, behalve misschien op de bodem van de Noordzee.'
'Ik heb meer wilgenbossen gevonden in de Flevopolder, maar hier is het licht het meest sprankelend, mogelijk door de aanwezigheid van al dat water. Het water reflecteert als een spiegel in de hemel. De lucht reflecteert vervolgens op het Hollandse landschap. Het licht is hier schitterend.'
In het Wilgenbos gaat De Ridder mij voor, met grote regenlaars-passen. Hij zoekt een plek zonder pad, zonder menselijke inmenging. Ik zeg maar niets, om hem niet te storen.
Ik herinner me de afwezigheid van elk menselijk spoor in het gefotografeerde landschap van De Ridder en dan begin ik te vermoeden wat dit werk suggereert: de mens is niet belangrijker dan een tak, een vogel op een tak, een wilgenbos dat ruist in de wind.
Ik loop achter De Ridder aan. Zijn blik verdwijnt tussen de takken. Hij haalt zijn camera en statief tevoorschijn en verdwijnt onder een doek. Hij staat zo lang stil, dat ik hem uit het oog verlies. Het is alsof de kunstenaar uit puur kijken bestaat. Hij is één geworden met het landschap.
---
---
ABENDSONNE
Reviewed by Adam Bell for photo-eye Magazine 2011
Misha de Ridder Abendsonne
Photographs by Misha de Ridder
Schaden.com, 2011. Hardbound. 14 pp., 8 color illustrations, 11-3/4x14-1/4".
The horizon [is] a kind of temporal hinge between immediate apprehension and a constant postponement of closure...The very fact of the horizon is what is immutable; it is an infinite dividing line between infinite entities, a place toward which the mind journeys and yet a place that appears as a continuous, productive, deferral of place.
-Susan Stewart, "What Thought Is Like" from The Open Studio Essays on Art and Aesthetics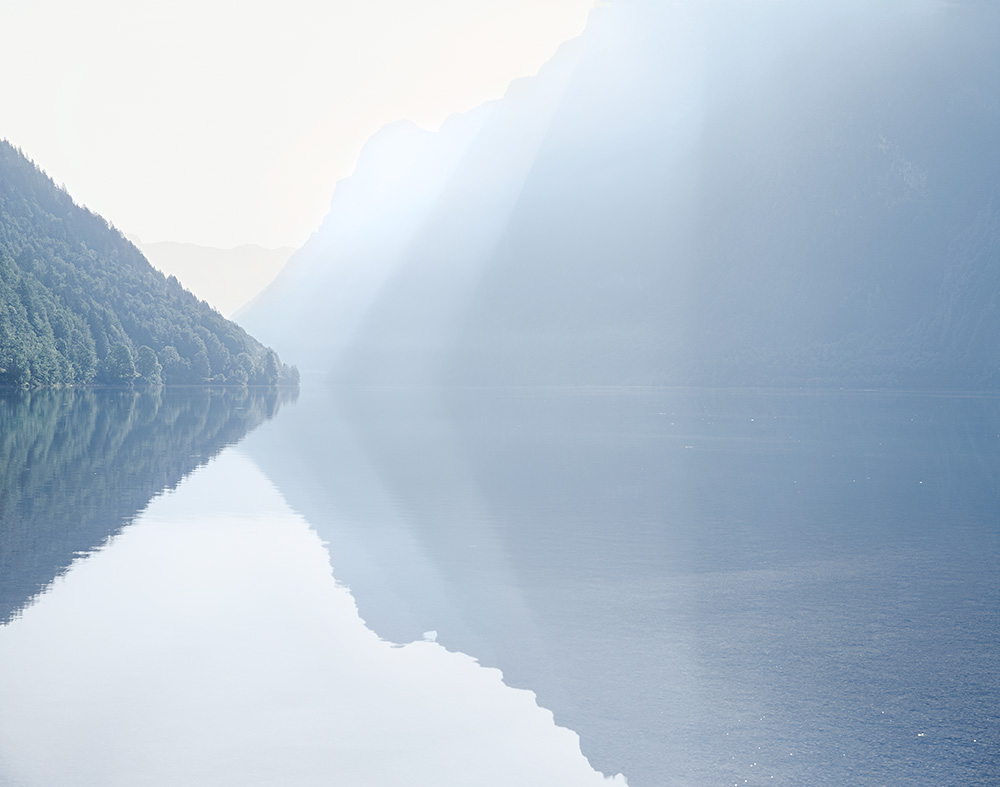 Rooted in 19th century Romantic notions of the sublime, Misha De Ridder's images are subtle and beautiful, but also utterly contemporary. Abendsonne is a narrowly focused book that contains a mere eight large images (seven inside and one on the cover) printed on a heavy card stock, but is full of nuance and visual sophistication. The title, translated from German, means "setting sun" or "evening sun," but more specifically refers to a phenomenon in northern Europe during late autumn and early spring where the sun barely rises in the sky. In the mountainous Swiss towns where these images were made, the sun hovers briefly above the peaks before sinking back and shrouding the landscape in darkness - the cool otherworldly light, temporally transforming the landscape and shifting our perception.
Looking at De Ridder's book, I was reminded of a tiny show I saw more than ten years ago entitled The Sea & The Sky at the Beaver College Art Gallery in Pennsylvania. Containing works by Vija Celmins, Elger Esser, Linda Conner and various other artists and photographers, the show explored contemporary representations of the sky and sea. Accompanying that exhibition was a pamphlet with the absolutely brilliant essay "What Thought Is Like" by Susan Stewart. In that essay, Stewart traces notions of the sublime from Immanuel Kant to Henry David Thoreau and his contemporaries to the artists exhibited in the show. She also grapples with an issue that is central to De Ridder's work - the paradox of visually expressing a phenomenon that can only be experienced.
All the images in Abendsonne contain a similar view of a mountainous landscape mirrored by a lake. In each image, the light has a hazy openness that flattens and abstracts the landscape. Cutting through the center of the frame, the horizon creates a doubling effect that is simultaneously disorienting and hypnotic. Although writing about other work, Stewart's words offer great insight. As she writes, these images "draw us into the act of looking, even as they draw us to the limits of our looking." Stewart continues to talk about how images of the sea and sky often leave us with a "vertiginous loss of position or location." This same phenomenological effect is present in De Ridder's work. As viewers, we hover disoriented above the glass-like surface of a lake - ground and sky seemingly transposed, shimmering out of reach, like a mirage.
As an artist, De Ridder makes images that could easily become saccharine calendar art or empty exercises in sublime kitsch. Arctic sunsets, verdant dunes and dense forests have all been De Ridder's subjects, but he has always succeeded in pushing them to a new level and forced us to look again - either through inventive design in the case of Wilderness or editorial restraint and focus, as in the case of Dune. In some ways, De Ridder's works are so forcefully anachronistic that they are contemporary. It takes a brave and talented soul to tackle the sublime landscape and succeed like De Ridder.
In the 19th century, writers such as Edmund Burke and James Addison wrote extensively about the sublime and puzzled over the problem of representing vast and spectacular natural phenomenon such as the sea and sky. They also wrote about the feelings of terror and grandeur that accompany ones experience of the sublime. It is easy to forget, or ignore, the mysteries of the natural world. We live in a modern world largely divorced from, and oblivious to, the kinds of natural phenomenon that Burke, Addison and others wrote about so long ago, and De Ridder explores. Separated from the natural beauty of the world, it is always good to look again -- even if it is in awe and confusion -- with fresh eyes.
Please note: All quotes from Susan Stewart, "What Is Thought: The Sea and The Sky," originally printed as a pamphlet to accompany the exhibition The Sea & The Sky, Beaver College Art Gallery, 2000; reprinted in Susan Stewart, The Open Studio: Essays on Art and Aesthetics (University of Chicago Press, 2005) p. 99-110.
---
2015 / Unseen Magazine - Sophie Wright
2014 / De wildernis van Almere - Maria Barnas
2012 / Avro Kunstuur - In Sight, Collecting Photographs (video)
2005 / Luxuriant Reality, De Volkskrant - Maria Barnas
---
SCHRIJVEN MET LICHT
Speech bij opening Solstice, Misha de Ridder in Foam 16.06.2011 – Erik A. de Jong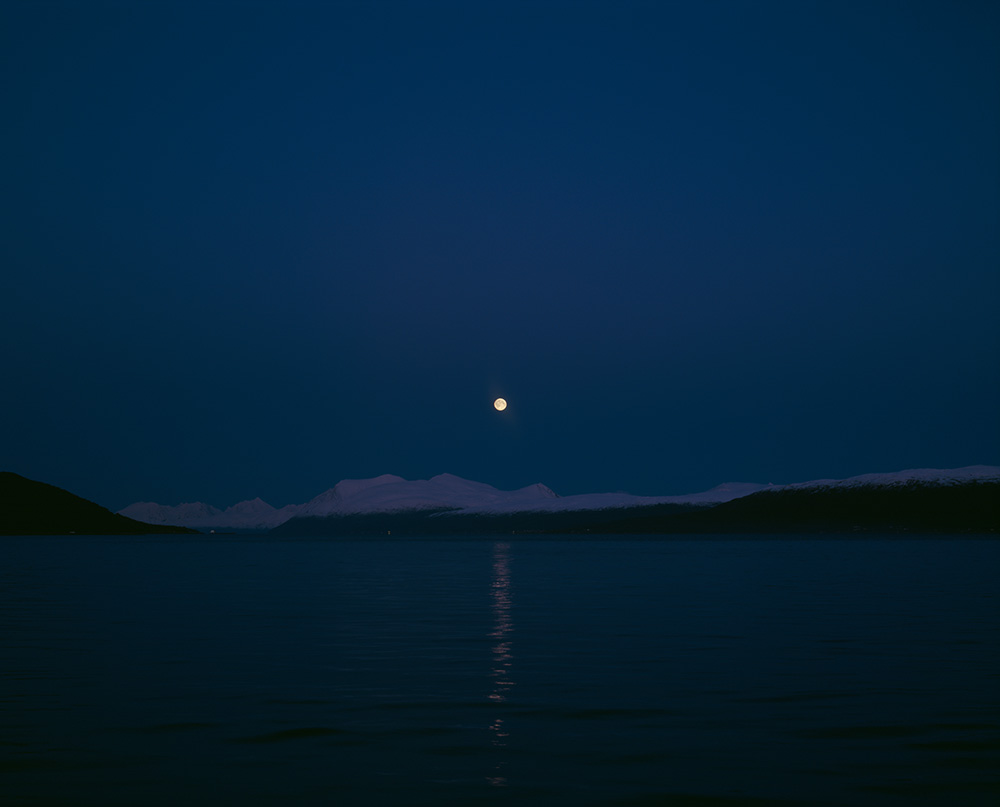 We zijn aangeland op een moment dat nieuw nadenken vraagt over onze verhouding tot natuur en landschap in een verstedelijkende wereld; er ligt een grote opgave voor onze omgang met deze grootheden: menselijk interventie hoeft niet ontkend want is universeel en maakt het landschap tot landschap, maar er is ook diepe noodzaak tot exploratie van de betekenis van natuur en landschap van binnenuit, als een levende constructie met zijn biotische en abiotische factoren.
De relatie tussen landschap en mens, tussen natuur en kunst is een complex gegeven: natuur is beweging en verandering, zij sterft, is efemeer, gaat voorbij, maar komt ook weer terug, de natuur is proces; maar ook al gaat het moment onherroepelijk verloren, een foto kan tijd vasthouden, en daarmee doet de kunst iets wat de natuur niet kan: de foto is het bewustzijn van het nu, gevangen en geschreven in licht. Natuur en kunst vinden zo in dialoog met elkaar een plaats in de architectuur van de tijd.
W.F. Hermans schreef in Paranoia (1953): 'mijn grootste ongeluk is dat ik niet als machine ter wereld ben gekomen en dat ik niet met licht kan schrijven als een fototoestel'. Het is een indringende uitspraak: want hij verwijst naar hoe fotografie tot stand komt met een mechaniek, zoals ons lichaam weliswaar ook een mechaniek is met onze ogen als lenzen. Maar beelden kunnen wij enkel vastleggen in ons geheugen.
Hermans stelt zich echter voor dat als hij een fototoestel was, zijn hand zou kunnen schrijven met licht. Zoals licht op film valt en zichzelf inschrijft in het medium en daarmee vastlegt, zou schrijven met licht worden tot licht werpen op, tot een openbaren, een uitdrukken, en een betekenis geven aan de wereld om ons heen op papier, dat vaak ook de ondergrond voor de foto is. Fotograferen en schrijven zijn dan beide expressie, experiment, uitkomst van persoonlijk visie, onderzoek, zoeken naar verstandhouding en proberen die geldend maken; zij kunnen beide poëzie zijn, of proza of drama.
Voor landschap is in deze tijd nodig dat er gezocht wordt naar wegen die gaan voorbij de vaststaande esthetica die sinds 18de eeuw een indeling heeft gemaakt in het schone en het schilderachtige, comfortabel in hun aangename, niet bedreigende en oppervlakkige vorm van schoonheid dat als cliché de door ons gewenste ideale werkelijkheid bevestigt. We zijn in zekere zin aan het einde gekomen van die traditie waarin de landschapsfoto enkel visueel is, en niet een schriftuur, een uiteenzetting, een onder de huid gaan.
Esthetica is afkomstig van het Griekse aisthetisein dat oorspronkelijk ervaringswereld betekent, voorbij kijken, voorbij het visuele alleen. Het is het voelen met de ogen, het zien door de huid, het ruiken met het oor, het horen met de neus: esthetica moet zijn, first and foremost: zinnelijke, zintuiglijke ervaring. Niet voor niets zijn er in kunsttheorie en esthetica dringende recente pleidooien ( zoals bij de Fin Juhani Pallasmaa) voor een resensualisering van de wereld als reactie op het eenduidig modernisme en zijn erfenis.
Landschap is integraal, samenvattend: reëel en niet een abstractie. Landschap is een lichaam dat gevoeld en gelezen kan worden. Landschap is niet eenduidig, het is complex: het moet ontdekt, veroverd worden in tijd en ruimte, tenminste als we het ook binnen zijn eigen systeem willen zien en begrijpen en lezen en niet enkel van buiten af. Landschap moet worden aangegaan, zeker in een wereld die het stedelijk perspectief steeds meer in onze cultuur op de voorgrond zet.
Als landschap wildernis is en, zoals de Amerikaan Thoreau gezegd heeft, 'in het behoud van de wildernis de toekomst van de wereld ligt' dan moeten we landschap zien en begrijpen van binnen uit, niet als een beeld, als een commodity, maar als verstandhouding, die complex en veeleisend is. Daartoe moeten wij het blanco vel dat landschap is – het heeft immers als plek geen betekenis van zichzelf – in al zijn gelaagdheden opnieuw leren lezen als een boek opdat het zich aan ons kan onthullen; wij zijn het die landschap en natuur een betekenis verlenen.
Zoeken, onthullen en schrijven met licht is wat Misha de Ridder doet in zijn landschapsfoto's en video's. Hij zoekt niet de comfortabele zone van het schone en het schilderachtige, maar van het sublieme. Het is een zoektocht naar het aangaan van een confrontatie met de natuur als een gegeven groter dan onszelf, naar het opnieuw in beeld brengen van een grootsheid die tegelijkertijd reëel maar ook onbevattelijk is. Landschap is een paradox: hoe kan men vasthouden in beeld wat misschien niet gefotografeerd kan worden, de verandering van licht bijvoorbeeld, of de tactiliteit van het landschap. Het grootse tilt ons over grenzen waar wij niet altijd bij kunnen, mentaal niet, in gevoel niet. Landschap wordt niet alleen gezien, maar ervaren met meerdere zintuigenen met kennis en ambacht. Want wie landschap van binnenuit wil ervaren moet, zoals deze fotograaf, ook meteoroloog, geograaf, bioloog en kaartlezer zijn, bovendien over klimaatkennis en een artistiek vermogen beschikken.
Het zoeken en vastleggen van sublieme in het landschap laat sinds de 18de eeuw zien dat landschap een dimensie heeft die onbegrijpelijk is, verraderlijk kan zijn, waar zich een grens aftekent van leven en van dood, van onvoorspelbaarheid. Het sublieme is de landschapservaring die individueel en persoonlijk is, ons innerlijk vervult met de soms beangstigende en tegelijkertijd overweldigende schoonheid en kracht van natuur en landschap, de onbevattelijkheid van hun monumentaliteit en hun processen van klimaat, regen, wind, vuur, geologische kracht, licht en donker gemeten naar de positie van de mens. Het sublieme confronteert ons uiteindelijk met onszelf en ons bewustzijn in de ruimte op deze aarde. Subliem is afgeleid van sub limen: op de grens, op de drempel van. Wie voor de foto's van Misha de Ridder staat, ervaart precies dat: met hem zien we een wereld waar wij zelf niet in staan, maar wel op het punt staan binnen geleid te worden om opnieuw te leren kijken, en onze andere zintuigen open te stellen bij wat we beschouwen.
De foto's in deze tentoonstelling zijn gemaakt in het uiterste noorden van Noorwegen, in Tromsø aan de Noordkaap, op de grens naar de wildernis; op en buiten die grens waar in een extreem landschap, seizoenen en licht zich in een geheel andere sequens afspelen dan in de rest van Europa: het landschap is zelf een drempel die leidt tot intens andere ervaringen van koude, licht, warmte, donkerte, sneeuw in tal van nuances en schakeringen. Het is een plek waar het in de zomer 5 maanden licht en in de winter 5 maanden donker is. Dit andere licht doet grenzen vervagen, scherpt onze zintuigen aan en zet ze deels op hun kop, want niet is zoals we het verwachten te zijn.
Het landschap introduceert een zeker mysterie zoals we op deze tentoonstelling schitterend kunnen ervaren in het werk – Moon – dat het blauwe uur verbeeldt, een half uur voordat de zon ondergaat en waar in het landschap zowel het licht van de maan als het licht van de zon in tinten rood, geel en blauw samenkomen – dit is het blauw dat vele dichters en schrijvers hebben aangemerkt als de meest mystieke en openbarende der kleuren omdat echt diepblauw in het landschap verder eigenlijk niet bestaat.
Het is de bedoeling dat U zich door Misha de Ridder in deze tentoonstelling supra limen laat leiden, met hem over de drempel stapt en zich laat meevoeren op een wandeling die bewust is uitgezet, als replica van de tijd die hijzelf in de ruimte van dit landschap heeft doorgebracht. In beweging en in stilstaan, in beschouwen en contempleren, in zintuiglijke ervaring van licht en donker, in koude en eigen lichaamswarmte, in horen, ruiken, voelen. Het sublieme nodigt uit tot aanwezig zijn, tot het uiterste gaan van het lezen en begrijpen van de essentie van het landschap volgens zijn eigen systeem: in dat streven is Misha's werk eigenlijk dat van een minimalist, van een landartist voor wie niet het object maar de ervaring telt. Hij streeft naar het verkennen van de grens, de wereld achter de drempel, de grenzen van het licht, de grens van onze aanwezigheid, door waar te nemen, te voelen, te ondergaan en weer te geven wat eigenlijk niet gefotografeerd kan - hij is een ontdekkingsreiziger, een natuurvorser van eigentijdse betekenis.
Het is op een wandeling dat door de beweging van het lichaam en door de prikkeling van de zintuigen onze omgeving in tijd wordt ontdekt en waargenomen. Landschappelijke ruimten worden achtergelaten, grenzen overschreden en nieuwe horizonten betreden; wandelen is een ritueel, in zekere zin, vanaf het moment dat we de drempel over zijn gestapt die onze stedelijke wereld van de landschapswereld scheidt. In dat proces wordt de routine van ons denken en doen getransformeerd naar een ongebruikelijke, nieuwe en sublieme ervaring. Zo genereert de wandeling door Misha's landschappen in ons een zintuiglijke en emotionele constructie van natuur, die bijdraagt aan de definitie van ons eigen zelf, en die van het landschap. Onze identiteit als moderne stedeling is immers alleen volledig te definiëren indien er een intense verstandhouding tussen onze cultuur en de levende wereld van natuur en landschap bestaat. Misha's landschapsfotografie vormt daartoe de drempel en de openbaring –
Hij leidt ons overigens ook weer uit deze wereld, zoals U zelf zult kunnen ervaren. We stappen met hem, al bewegend, ook de drempel naar onze eigen en geruststellende wereld weer over – maar die kan eigenlijk nooit meer hetzelfde zijn – ; want deze fotograaf heeft tijdens uw wandeling op een ongelofelijke knappe manier natuur en landschap op een nieuwe manier van binnenuit geopenbaard; hij draagt daarmee bij aan een nieuw reveil dat nodig is om landschap en natuur de belangrijke plaats te geven die het dringend nodig heeft in onze cultuur, in ons leven, onze ervaringswereld, ons geheugen, in ons gevoel.
Amsterdam, Foam fotografie museum (Keizersgracht 609): Solstice van Misha de Ridder
17 juni t/m 28 augustus 2011 www.foam.org
---
---
LUXURIANT REALITY
Nature in the work of Misha de Ridder
by Maria Barnas for De Volkskrant Oct. 25, 2005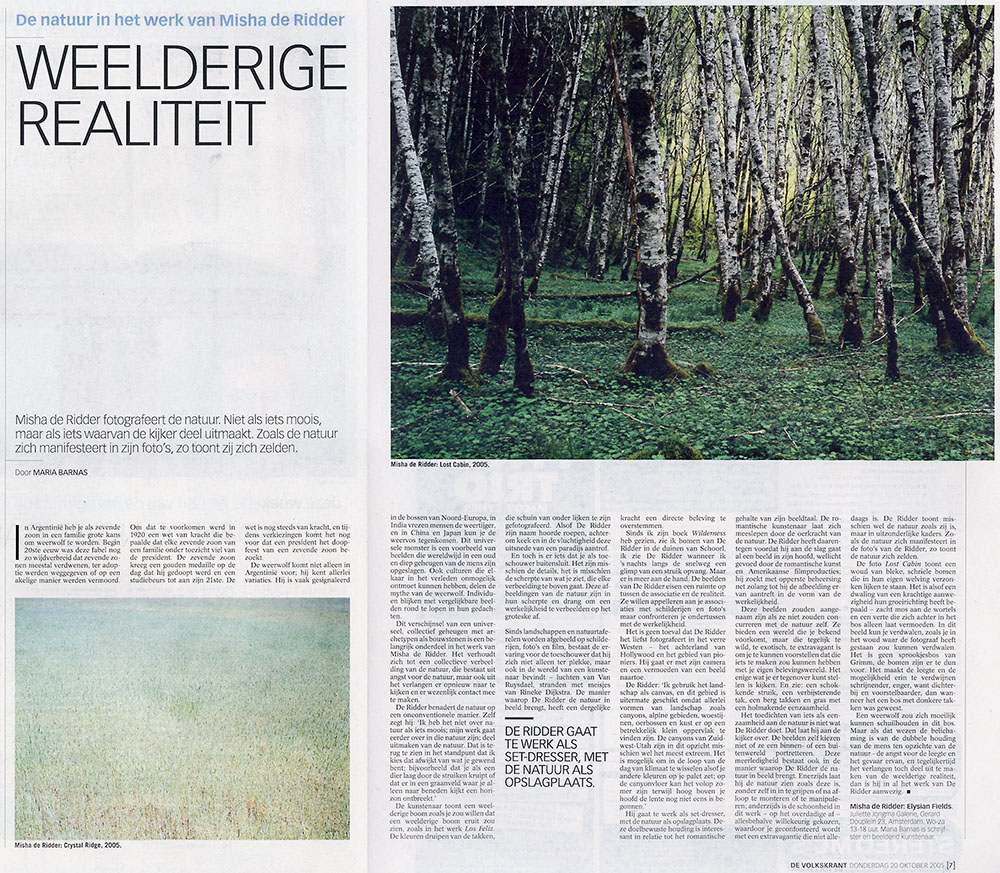 Misha de Ridder's photographs are of nature. This is not nature as something beautiful, but as something of which the viewer is a part. Nature rarely manifests itself as it does in his photographs.
In Argentina, as the seventh son of the family, you are likely to become a werewolf. At the beginning of the 20th century, this idea was so widespread that seventh sons usually disappeared, were given out for adoption or were killed in horrific ways. In order to stop this, in 1920, a law was passed, determining that every seventh son would be under the personal guardianship of the President. The seventh son received a gold medallion on the day he was christened and a scholarship to study until he was 21. This law is still in effect, and during election campaigns, it still happens that the President is seen attending the christening of a seventh son.
Werewolves are not just found in Argentina. There are all sorts of varieties. They are often sighted in northern Europe. In India, people fear the weretiger, and in China and Japan, you come across the werefox. This universal monster is an example of a very old image, buried deep in the memory of man. Cultures that could not possibly have come in contact with one another share the myth of the werewolf. Individuals seem to go through life with the same images in their thoughts.
This phenomenon of a universal, collective memory, with archetypes as its cornerstones, is an important factor in the work of Misha de Ridder. His work concerns a collective imagining of nature, made up of our fear of nature, and also our longing to see it afresh and to have real contact with it.
De Ridder approaches nature in unconventional fashion. In his words, 'I don't treat nature as something beautiful. My work is more about being in that nature, being part of nature. This is clear in the perspectives I choose, which are not what you are used to – for example, that you are crawling around beneath the bushes, like an animal, or that you are just looking down in a field of grain and there is no horizon.'
The artist shows a luxuriant tree the way you would like such a tree to look, as we see it in Los Feliz. The colours veritably drip from the branches, which in turn look as though they were photographed at an angle, from below, as if De Ridder had heard someone call his name, had glanced around behind him and in that fleeting moment encountered this slice of paradise. Yet there is something that keeps the viewer out. Perhaps it is in the details, or maybe it is the sharpness of what you are seeing, over and above all imagining. In that clarity and their urge to represent a reality, these representations of nature approach the grotesque.
Ever since landscapes and natural vistas have been depicted in paintings, photographs and films, the viewer has been able to have the experience, to feel that he can not only be at the site, but can also find himself in the world of the artist – in the skies of Van Ruysdael, on the beaches with Rineke Dijkstra's young girls. The way in which De Ridder brings nature into view has this same kind of power, this same ability to override direct experience.
From the time I first saw his book, Wilderness, I see De Ridder's trees in the sand dunes at Schoorl, I see De Ridder when I drive along the highway and catch a glimpse of shrubbery. But there is something more. De Ridder's images demand a space of their own, between association and reality. They evoke your associations with paintings and photographs, but as they do so, they confront you with reality.
It is no coincidence that De Ridder prefers to take his photographs in the far west – the Hollywood hinterlands and the land of pioneers. He goes there with his camera and with an inkling of an image in mind. 'I use the landscape like a canvas, and this area is especially suitable, because all kinds of landscape – canyons, alpine slopes, deserts, virgin forest and coastline – can all be found in a relatively small area. The canyons of southwestern Utah are in this sense perhaps the most extreme. In the course of a day, it is possible to change climate, as though you were laying out different colours on your palette. It can be midsummer on the canyon floor, while high above your head, spring has yet to appear.'
He has the ways of a set-designer, with nature as his warehouse. This intentional approach is interesting in terms of the romantic content in his visual language. The romantic artist lets himself be inspired by the primal power of nature. De Ridder, in contrast, already has an image in mind before he begins, probably nourished by romantic art and American movies. With supreme control, he seeks for however long it takes, until he finds that image, in the form of reality.
These images would be pleasing if they did not compete with nature itself. They offer a world that comes across as familiar, but at the same time, it is too wild, too exotic, too extravagant for us to imagine that it could possibly have anything to do with our life, our own world. The only thing we can offer in return is to look, and to see: a shocking bush, a baffling branch, a mountain of sticks and grass with a hollow-gut loneliness.
Reading something like loneliness into nature is not what De Ridder does. He leaves that to the viewer. The images themselves do not decide whether they portray an inner or an outer world. This duplicitous emptiness is also found in the manner in which De Ridder puts nature into his image. On the one hand, he lets nature be seen as it is, without intervening and without subsequent manipulation or editing. On the other hand, the beauty of this work – beauty to excess – is anything but random, so that you are confronted with an extravagance that is decidedly not commonplace. De Ridder perhaps shows nature as it is, but he does so in an exceptional framework. Nature seldom reveals itself as it does in De Ridder's photographs.
Lost Cabin is a photograph of an expanse of pale, gaunt trees that seem to have sunk into the waves of their own branches. It is as though some digression on the part of a potent presence had determined how they grew – soft moss covering the roots and a distance behind the trees that can only be guessed at. You can get lost in this image, just as you can get lost in the woods where the photographer was standing. It is no Brothers Grimm fairy tale forest – the trees are too narrow. It makes the emptiness and the possibility of getting lost there all the more poignant, more frightening, for it is closer to us and more easily imagined than a forest with dark branches.
A werewolf would have a hard time hiding in these woods. But if that creature is the embodiment of the ambiguity in our relationship to nature – our fear of emptiness and the danger it carries, and our simultaneous desire to be part of its lush reality – then he is present in the work of Misha de Ridder.
Amsterdam, Galerie Juliètte Jongma: Elysian Fields, Photographs from Nature by Misha de Ridder, through 19 November, 2005. www.juliettejongma.com
---