English translation by Google
OUDE KERK (OLD CHURCH) DOWN TO THE SMALLEST DETAILS
INSIDE - MISHA DE RIDDER
Where: Juliètte Jongma, Gerard Doustraat 128a
On show: until 5/5
by Kees Keijer, Het Parool, 2018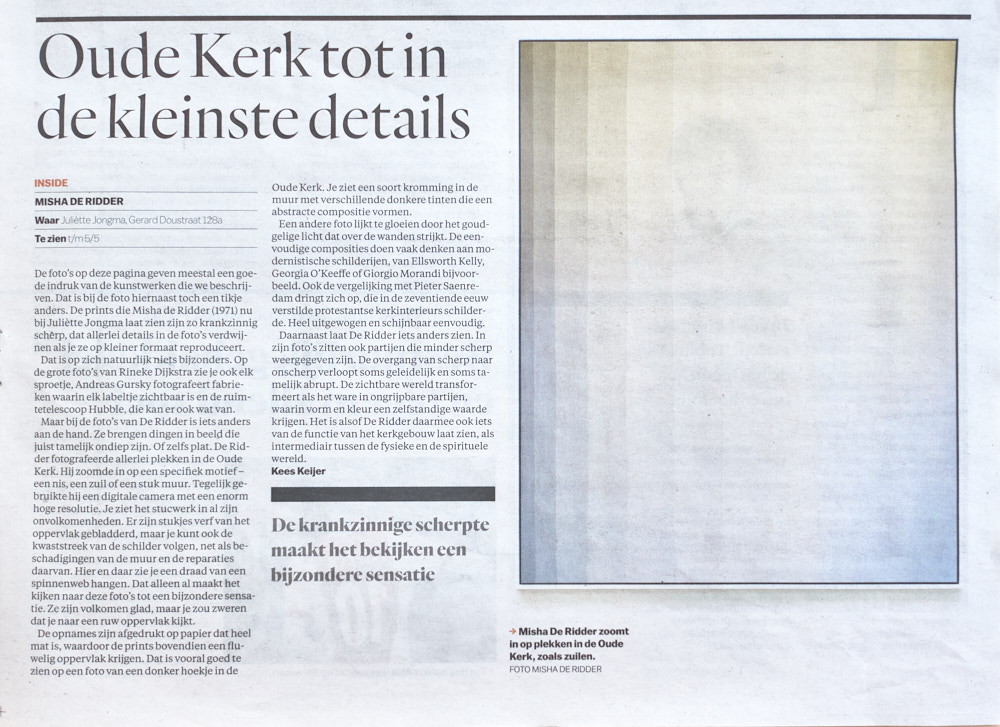 The photos on this page usually give a good impression of the artworks that we describe. That is a bit different in the photo on the right. The prints that Misha de Ridder (1971) now shows at Juliètte Jongma are so insanely sharp that all kinds of details in the photos disappear if you reproduce them in smaller format.
That is of course nothing special. On the large photos of Rineke Dijkstra you can also see every freckle, Andreas Gursky photographs factories in which each tiny label is visible and not to mention the space telescope Hubble who does also a great job on details.
But something else is going on in De Ridder's photographs. They show things that are rather shallow. Or even flat. De Ridder photographed all kinds of places in the Oude Kerk (Old Church). He zoomed in on a specific motif - a niche, a column or a piece of wall. At the same time he used a digital camera with a very high resolution. You see the stucco in all its imperfections. There are fragments of paint blistered from the surface, but you can also follow the brush stroke of the painter, as well as damage to the wall and its repairs. Here and there you see a thread hanging from a spider web. That alone makes looking at these photos a special sensation. They are perfectly smooth, but you would swear you are looking at a rough surface.
The shots are printed on paper that is very matt, giving the prints a velvety surface. This is especially visible on a photo of a dark corner in the Oude Kerk. You see a kind of curvature in the wall with different dark shades that form an abstract composition.
Another photo seems to glow with the golden yellow light that strikes the walls. The simple compositions often remind of modernist paintings by Ellsworth Kelly, Georgia O'Keeffe or Giorgio Morandi, for example. The comparison with Pieter Saenredam also arises, which painted stark Protestant church interiors in the seventeenth century. Very balanced and seemingly simple.
In addition, De Ridder shows something else. In his photos there are also parts that are displayed less sharp. The transition from sharp to blurry sometimes happens gradually and sometimes quite abruptly. The visible world transforms, as it were, into intangible parts, in which form and color acquire an independent value. It is as if De Ridder also shows something of the function of the church building, as an intermediary between the physical and the spiritual world.
<